Recipe for fruit Smoothie with almond milk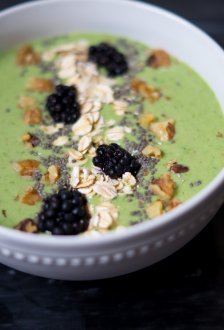 Smoothie bowls are such a fun idea because by making your smoothie a little thicker, you can pour it into a bowl and add toppings for a refreshing breakfast or snack. To make it thicker, use less liquid, more frozen items and a thick yogurt, like Greek yogurt.
In this green smoothie bowl, the spinach and avocado give it a nice green color, while the frozen berries, banana and juice make it taste sweet and delicious. Make sure to use frozen fruit to give it a nice, thick consistency. I like to add fresh fruit, such as blackberries, oats, seeds and nuts as toppings. All of these healthy ingredients come together to make a true power breakfast in this power green smoothie bowl!
Ingredients
¼ cup orange juice
3 Tbsp filtered water
½ cup plain yogurt
1 cup packed raw spinach
1 medium banana, sliced and frozen
5 frozen strawberries
½ avocado, chopped
1 Tbsp ground flax seeds
1 Tbsp whey protein powder
Blackberries, oats, chia seeds and walnuts for topping
Directions
Add all ingredients except for the toppings to a Magic Bullet cup and blend.
Pour the smoothie into a bowl and top with desired toppings.
Makes 1 smoothie bowl
Whenever I make this papaya banana smoothie, I feel like I'm somewhere tropical. Papayas are grown in South America and Hawaii, where it's warmer and shipped all over the world. The first time I bought a papaya, I didn't know what to do with it. Once I got home from the grocery store, I sliced it open and thought it tasted terrible. Of course, that was only because I didn't know it had to ripen first! Papayas are like avocados in that they get soft when ripe. Before blending the meat of a papaya up into a delicious smoothie, give it a gentle squeeze and make sure it's good to go.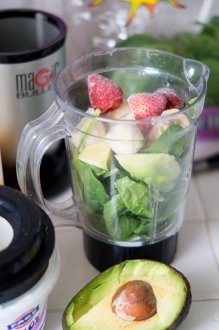 Here is a tip for making this smoothie: Scoop out the meat of the papaya into a ziplock bag and freeze an hour before you make your smoothie. Using frozen fruit will give your smoothie a nice slushy texture!
1 ripe papaya
1 frozen banana
1/2 cup plain yogurt
1/2 cup orange juice
Slice the papaya in half and remove the seeds and pulp. Scoop out the meat into a Magic Bullet cup.
Add the remaining ingredients and blend well.
Makes 1 smoothie
Even though you can enjoy gingerbread any time of the year, I always seem to eat the most of it around the holidays and forget about it the rest of the year. This gingerbread smoothie can be enjoyed all year long, but is especially fun and festive around to make around the holiday season. You can make the healthy version by omitting the crushed gingerbread cookies and simply enjoy the gingerbread flavor from the molasses, ginger and spices blended with bananas and almond milk. As for me, I like to drop a gingerbread cookie in my blender and blend it into the smoothie for extra goodness.
Ingredients
1 cup almond milk
2 chopped frozen bananas
1 tsp. ground ginger
1 tsp. cinnamon
1/4 tsp. nutmeg
2 tsp. molasses
1/2 tsp. vanilla extract
1/2 cup ice cubes
Optional: 1/4 cup crushed gingerbread cookies
Add all ingredients to a Magic Bullet blender and blend until smooth.
Makes 2 smoothies
During the colder months, it's nearly impossible to drop into a coffee shop and not notice a massive advertisement for some sort of pumpkin drink. And while the pumpkin deserves to have its moment, the Magic Bullet helps us realize that you can get just as much flavor and seasonal delight out of other winter squash relatives. Blending them in the Magic Bullet gives us a similarly deep and sweet flavor that's familiar but refreshing.
1/3 cup winter squash
1/2 to 1 cup coffee
2 cups milk
1/2 tsp. cinnamon
1/4 tsp. cloves
1/8 tsp. nutmeg
1/8 tsp. allspice
1/8 tsp. ground ginger
Sugar or maple syrup to taste
Roast cubed squash in oven at 400 degrees for 20 to 30 minutes, or until soft. (Note that more squash is pictured. I made a side of squash for myself!)
Add squash to Magic Bullet and blend.
Combine all ingredients other than sweetener in pot and bring to simmer.
For an extra frothy drink, wait until the drink comes down to room temperature and blend again in the Magic Bullet for just a few seconds.
The drink is perfect as is, but you can always add sweetener to taste. This is absolutely the perfect way to cozy up on a chilly day!
I have recently been seeing these layered smoothies pop up all over Pinterest lately, and I'm now obsessed! What a brilliant idea! Not only are they appealing to the eye, they are quite the treat for your taste buds as you sip through each layer.
For my first one, I though strawberry kiwi would be the perfect flavor combination. Make sure your kiwis are ripe, otherwise it will taste bitter and you will need to add some kind of sweetener to the kiwi part (I learned that the hard way on my first try). I also learned that you can't just "pour in" the layers over each other, unless the smoothies are really thick. The layering works best if you use a spoon and do it gently, little by little.
Add 1/2 cup of almond milk and the kiwis to a Magic Bullet cup and blend.
Add 1/2 cup almond milk, strawberries, banana and yogurt to a separate Magic Bullet cup and blend.
Gently layer the two different smoothies over each other by using a spoon until you have used up both flavors.
Maybe it's because of my sweet tooth that I've never been a huge fan of green drinks. I never could find a way to make them taste good enough for me to enjoy. The bitter raw kale and spinach taste is usually too hard to mask!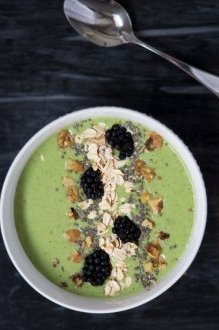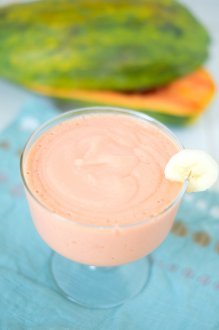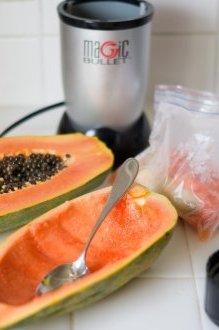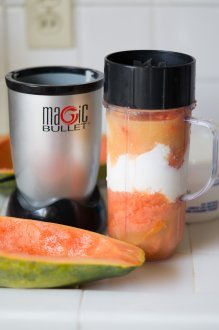 More
Blue Diamond Growers - Breeze Almond Milk Unsweetened Almond Coconut - 32 oz. (Pack of 2)


Grocery (Blue Diamond Growers)




A Blend of Almondmilk & Coconutmilk
Made From real Almonds & Coconuts
50% More Calcium Than Milk
Contains Medium Chain Fatty Acids
Lactose, Soy & Gluten Free