Frosty recipe almond milk
Lately my Healthy Wendy's Frosty has been getting a lot of attention and enjoyed by lots of friends around the globe. It's so good right! I had to make it myself with a new spin!
I'm super psyched to deliver to you (not till Nov 10th) my first recipe book. The concept is practices to help us feel better so we actually want to eat and treat ourselves well. The first part is filled with inspiration on ease, getting into how we feel, and lots of applicable practices.
I share some personal stories of pain and transformation that I haven't revealed anywhere publicly, and honestly I'm super nervous in sharing with the world, but I hope you find them empowering and encouraging. The second part is loads of incredibly healthy, super delicious, cost effective and ridiculously simple to make recipes that you can nurture yourself with and share with everyone you know.
The book is filled with my favorite recipes I've learned over the years, and they go over wonderfully with all kinds of people, from super healthy already types, to boyfriends who want to eat healthy but want something recognizable and yummy, to friends and family. I've fed everyone I know with these recipes all over the world, and they always get people coming back for more. Because they are so simple to make the recipes spread quickly, keeping the healthy, fun radiating and expanding. You know how we roll.
You'll Need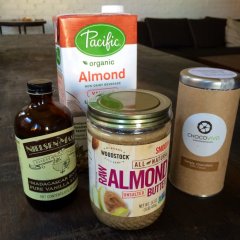 1 cup almond milk
1 banana (frozen) if not frozen add a handful of ice cubes
1 big tablespoon almond butter
1 teaspoon vanilla extract