Eggnog recipe with sweetened condensed milk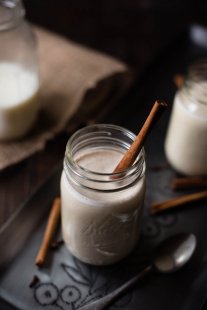 Not sure how things are in your house, but when the holiday season comes around, eggnog takes a welcomed spot in our fridge.
Dustin seems to have some sort of eggnog radar when we are grocery shopping. I know it's the holiday season, not when the leaves start changing and the weather gets colder, but when Dustin excitedly points out the eggnog in the refrigerated section of our supermarket. Without fail, he will spot it. Have no fear.
While I can get my eggnog fix after only a glass or two, Dustin could brush his teeth with the stuff and it'd never get old. Guess it's the kid in him.
And, yes, I love him for it.
For years, I've been saying I'd make Dustin some homemade eggnog. But, every year, Dustin finds it too hard to wait for me to buy all the ingredients and make it on my own.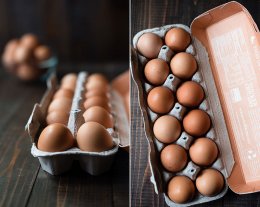 Well, that and because I always seem to push off making it.
Well, ladies and gentlemen, this year was different.
This year, I made my husband some homemade non-alcoholic eggnog.
And it was good.
Making eggnog is actually quite simple. You probably have most, if not all, the ingredients you need already sitting in your fridge or pantry.
What I liked about making my own is that I can control the flavors. I get to add just the right touch of cloves, cinnamon and nutmeg. Plus, the eggnog is super creamy and delicious…it just tastes better. As Dustin happily put it, this eggnog was "extra 'noggy." And we all agreed.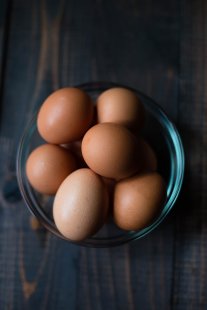 Try it — you'll understand.
Word to the wise: If you're looking to serve several people or want extra for yourself, it doubles and triples well. I do this often, as you can imagine.
Happy holidays!
Non-Alcoholic Eggnog
If you give this recipe a try, let me know what you think by leaving a comment and rating it. And don't forget to take a picture and tag it #asweetpeachef on Instagram! I LOVE seeing what you come up with. Enjoy!
Non-Alcoholic Eggnog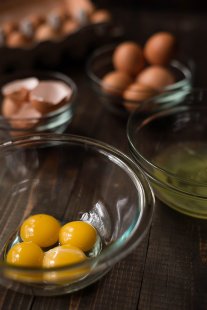 This is the best non-alcoholic eggnog recipe I've ever had. Rich, creamy and smooth, it's soooo yummy!
Author: Lacey Baier of A Sweet Pea Chef
Recipe type: Easy
Serves: 2
Ingredients
2 cups milk
5 whole cloves
½ tsp. ground cinnamon
¼ cup sweetened, condensed milk
4 egg yolks
½ cup granulated sugar
1 cup heavy whipping cream
1 tsp.ground nutmeg, plus more for garnish
1 tsp. vanilla extract
Instructions
Combine milk, cloves, cinnamon and condensed milk over low heat in a deep sauce pan until the mixture is no longer chilled and is heated through. Slowly increase the heat to medium and bring the mixture to a low boil. Careful not to allow a rolling boil.
In a medium bowl, combine the eggs and sugar. Beat eggs using a stand mixer, electric mixer or by hand until lightened in color and fluffy.
Slowly temper the eggs by adding about 1 tbsp. at a time of the hot milk mixture into the egg and sugar mixture. Once enough of the milk mixture is in the egg mixture, pour it all back into the sauce pan. Heat over medium heat for 3-5 minutes, stirring frequently, until thickened. You will know it's thick when you can leave a clean line on the back of a spoon (see picture above).
Add the heavy whipping cream, nutmeg and vanilla extract to the mixture and heat through. Do not bring to a boil.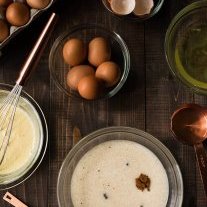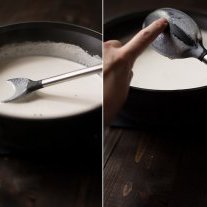 More