Simple pumpkin pie recipe without evaporated milk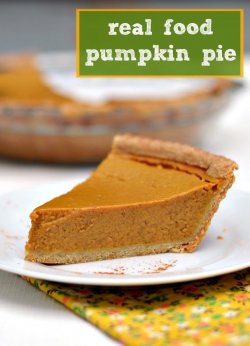 This delicious, healthy pumpkin pie recipe uses a whole wheat crust and ditches the condensed milk to make this Thanksgiving classic a little healthier.
I would be lost on Thanksgiving without pumpkin pie. It brings the whole meal together for me. I adore apple pie, but for some reason I usually reach for pumpkin on Thanksgiving. I used to make it from the recipe on the Libby's pumpkin puree can. That recipe calls for white sugar and evaporated milk, which contains dipotassium phosphate and carrageenan. These aren't ingredients I would cook with at home, so I knew there had to be a better way.
My 8-year-old daughter volunteered to make the pumpkin pies for our extended family this Thanksgiving. She was inspired by the in Family Fun magazine. Each slice of pie turns into a fox with a little help from whipped cream, fig bar cookies, and brown M&M's. For my daughter's pies, we're using whole milk and maple syrup. This recipe makes two 9-inch pies, and it tastes the same to me as the Libby's version. The little cousins will be sure to love their pumpkin pie foxes, and I'm expecting the adults will enjoy them, too.
Pumpkin Pie
Ingredients
For the Crust
2 cups whole wheat flour
1 tsp. salt
¾ cup cold unsalted butter, sliced
1 tbs. maple syrup
6 tbs. cold water (give or take)
For the Filling
4 eggs
2 cup whole milk
1⅓ cup maple syrup
2 tsp. cinnamon
1 tsp. ginger
½ tsp. nutmeg
Instructions
To make the crust, mix the flour and salt in a large bowl.
Pour the flour mixture into a food processor and add the cold butter. Process the mixture until you have a crumbly, course meal.
Add 1 tablespoon of maple syrup plus 4 tablespoons of cold water and process. The texture may still be crumbly. Keep adding water one tablespoon at a time until the dough comes together into a ball. Don't add so much water that the texture becomes sticky.
Carefully remove the dough from the food processor and divide into two balls. Flatten the balls into discs and cover each disc with wax paper. Refrigerate for 30 minutes.
Preheat the oven to 350 degrees.
Remove the dough and roll it out on a floured work surface. Each piece of dough should be large enough to place in a 9-inch pie pan.
Carefully transfer the dough to the pie pans and decorate the edging as desired.
To make the filling, whisk together the filling ingredients until they're well combined. Pour half the filling mixture into each crust.
Bake the pies for 60 to 70 minutes, or until the filling is set. Start checking them a little before 60 minutes and you'll see that the middle is still a bit jiggly. Keep checking until the middle no longer jiggles when you gently shake the pan. (Note: It may take up to 90 minutes depending on your oven.)
Cool before cutting. Serve warm or refrigerate.
More
Bob's Red Mill Non Fat Dry Milk Powder, 22-ounce


Grocery (Bob's Red Mill)




One, 22 oz. bag (1.375 lbs.)
Vegetarian; Kosher Dairy
No added hormones
Easily reconstitutes with water for liquid milk. Just whisk or blend Dry Milk Powder with water in a 1:7 ratio (powder:water)
Stores up to two years
Popular Q&A
What can i use in place of sweetened condensed milk in a recipe?
Own by slowly simmering any quantity of milk in a pan until it reduced by 60%, and then adding the sugar. Obviously this is a tedious process. Sweetened condensed milk has a long shelf life, so pick up one or two cans on your next trip to the market