Soy milk rice Pudding recipe
It is a veggie lover's dessert delight who wants to enjoy all the goodness of world minus dairy and egg traces. This vegan rice pudding recipe uses almond milk as a substitute of normal dairy milk. However, one also has an option to use more widely preferred soy milk in this recipe. Addition of fresh fruits and garnish of toasted dry fruits makes it an outstanding dish.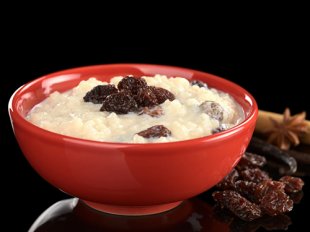 Preparation Time: 15 minutes
Cooking Time: 25 minutes
Serves: 4 servings
Ingredients:
2 cups cooked White Rice
3 cups Almond Milk or Soy Milk
1/2 teaspoon Ground Cinnamon
1/4 cup Sugar
3 tablespoons Raisins
1/8 teaspoon Ground Nutmeg
1/2 teaspoon Vanilla Extract
1 tablespoon Dried Cranberries
1/2 cup peeled and finely chopped Banana and Apple
Directions:
Combine cooked rice, almond milk, ground cinnamon, sugar and raisins in a medium saucepan. Stir to mix well and bring mixture to boil over medium heat.
When mixture starts to boil, reduce heat level to low and cook until creamy, thick and almost all milk is absorbed or for around 20 minutes. Stir occasionally in between to prevent burning and sticking of rice.
Turn off heat and stir in vanilla extract and ground nutmeg.
Transfer it to serving bowl and let it cool at room temperature. Place it in refrigerator to chill for 2 hours. Add chopped banana and apple and mix well. Transfer it to individual serving bowls and garnish with dried cranberries.
Delicious and guilt-free vegan rice pudding is ready for serving.
Tips and Variations:
If you want to serve it warm, then do not add fresh fruits; just garnish it with toasted dry fruits and serve.
Replace almond milk with same amount of any non-dairy milk like soy milk, rice milk in above recipe for variation.
Substitute 3 cups almond milk with 1½ cups water and 1½ cups coconut milk for variation.
Add 1/2 teaspoon ground cardamom in place of ground cinnamon to make Indian style pudding.
Taste: Creamy and sweet
Serving Ideas: Serve it as a dessert or as a side dish for lunch or dinner. Serve it for healthy dairy-free vegan breakfast. It is an ideal sweet dish for kids allergic to dairy products.
More
Organic Matcha Green Tea Powder - Culinary Grade - Smoothies, Cakes, Lattes, Cookies - Add to Coffee and Hot Chocolate - 137 Times More Antioxidants Than Regular Green Tea - Aids Weight Loss - 4 OZ
Grocery (Joyfuel)
MATCHA IS SO MUCH MORE THAN JUST GREEN TEA. Super rich in antioxidants that help prevent aging and chronic diseases, protect the skin from harmful UV rays, improve...
BOOST YOUR ENERGY WITHOUT THE JITTERS OR DOWNWARD SPIRAL. Matcha contains the potent amino acid L-Theanine that delivers the unique ability to calm, reduce stress...
THE HEALTHY INGREDIENT IN SMOOTHIES, LATTES AND BAKED GOODIES. If you re looking to blend Matcha into your drinks and desserts, this is an excellent choice. Mixes...
SMALL SERVING, BIG FLAVOR. One half teaspoon is all it takes for green tea lovers to automatically fall in love with our Matcha. For the non-avid green tea drinker...
60 DAYS BETTER-THAN-MONEY-BACK GUARANTEE. Order now with peace of mind. If you are not 100% satisfied, tell us within 60 days of purchase and we ll give you a full...
Popular Q&A
Can I substitute soy milk for milk in banana pudding recipe? | Yahoo Answers
Milk is milk,no matter what it's source.Yes you can substitute it.
How to Make Sesame Soy Milk Pudding.
Dessert puddings are always enjoyable after a great meal. For people that enjoy drinking soy milk or other non-dairy products, try this sesame soy milk pudding.
Serves 4