Simple milk Pudding recipe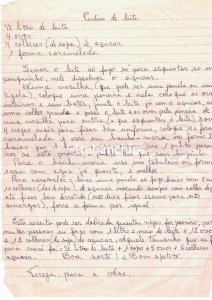 This milk pudding recipe is one of the most genuine recipes for a healthy dessert. It is made only with three ingredients: milk, eggs and sugar.
I had this pudding recipe from a dear nurse of my grandmother, Dona Tereza. She was so cute with us when visiting my grandmother that seemed one of the family. During one of these visits (my grandmother passed away many years ago at the age of 95), she offered us this milk pudding.
Right from the first bite I was delighted. It has that kind of familiar and comforting taste that seems already known by our aroma memory. D.Tereza then copied the recipe on a sheet for me. As I changed house and country in the meanwhile, (I have found it recently and posted below). So yesterday I asked my father if he had the recipe.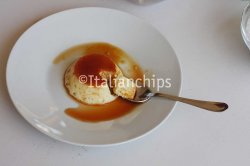 He didn't, but he called her that was happy to give it again by phone.
She uses to prepare it using a big pan with a hole in the middle – the typical pudding ones. I chose to use small pudding molds as used here in Italy to serve a similar pudding, called creme caramel. It's up to you.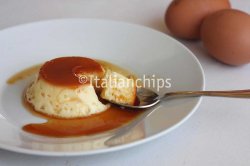 The secret of this pudding recipe is that you should use a strainer to transfer the eggs, milk and sugar from a bowl to another for 4 or 5 times. Using a strainer you will eliminate what doesn't pass through, the egg fibers that would change the pudding taste.
Just mix the sugar with the warm milk and pour it through the colander where you have put the entire eggs. Do it again for 4 times and it's ready to be baked in bain marie in a caramelized pan.
A Simple and Old Style Milk Pudding Recipe
Total time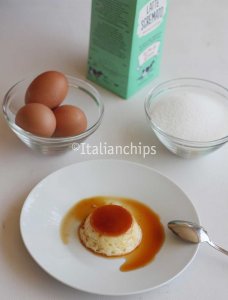 Author: tested by Ana
Recipe type: Desserts
1 liter of milk
8 eggs
12 Tbsp of sugar
Turn on the oven to 180°C/356°F.
Put a large pan with water (about 3cm/1in) in the oven (the pudding pan should be able to be put inside it).
Put the milk into a pan and turn on the gas. Do not let it boil. Turn the gas off when the milk is just warm.
Pour the sugar inside the warm milk and stir to make it melt.
Add the eggs without beating them.
Pass the whole mixture through a thin colander and eliminate what does not pass through it.
Repeat for three times.
Pour the mixture into the caramelized mould, put it carefully inside the bigger pan that is already inside the oven and bake it in bain marie for about one hour, or until the surface becomes colored and a toothpick comes out clean when punching the pudding.
Let it cool and put into the refrigerator to cool before serving.
More
3-Month Emergency Food Supply by Patriot Pantry


Sports (My Patriot Supply)




90 Days Of Quick, Easy-To-Prepare Meals, Snacks And Drinks For One Adult
Features Delicious Recipes Such As Liberty Bell Potato Cheddar Soup, Uncle Frank s Italian Lasagna, Honey Coated Banana Chips And More
25-Year Shelf-Life For Ultimate Peace Of Mind
Packaged In Two Signature Slim-line Totes For Easy, Compact Storage In Any Home Or On The Go
Just Boil Water, Pour In Food, Simmer For 10-15 Minutes, And You Have Simple, Nutritious Meals Anywhere, Any Time
Popular Q&A
What is a non alcoholic recipe for soy or rice milk based eggnog.
yummyyyyyy !!!!! also u can add raisin/dried fruits !!!
delicioussssss
rice pudding ?? and soy milk---? | Yahoo Answers
yup i use vanilla soy milk for rice pudding---
yummyyyyyy !!!!! also u can add raisin/dried fruits !!!
delicioussssss