Recipes using Dairy milk chocolate
There's been a bit of chatter about Cadbury over the past few months. First, Cadbury is going Fair Trade with their most popular product, the Dairy Milk bar. Since the bar is the United Kingdom's #1 selling bar with $852 million in sales buying only fair trade cocoa will make a huge difference for cocoa growing regions. (It's also #1 in Australia and India.)
The second bit of news is that Kraft, the global food powerhouse that owns not only a large corner of the cheese food world but also Toblerone, Terry's Chocolate and Cote d'Or, made a bid for Cadbury.
Cadbury has chocolate factories all over the world and each one has slightly different local takes on the product. Here in the United States the Cadbury Dairy Milk products aren't even made by Cadbury, they're made by Hershey's under a licensing agreement. (But it's not like Hershey's even makes it from scratch, the major raw material of the chocolate crumb - a mixture of dried milk and chocolate - is shipped to Hershey, Pennsylvania to be combined on site with sugar and other ingredients to form the end product.)
I thought it was high time to compare these two different recipes. So I found the closest products I could to compare.
I found a nice single serve block of Cadbury Dairy Milk from the UK. It was in marvelous condition and looked like it had been stored well at the India Sweets & Spices where I shop - it's kept at the end of the produce section in the refrigerated area - so it's climate controlled.
I also picked up a few of the super cute Dairy Milk Buttons, which are little chocolate disks.
For the American version I found a nice back of Dairy Milk Miniatures from Hershey's Signatures line.
It's apparent when putting them side by side like this that the American made (on the left) is darker than the UK made one (on the right). What I liked about these two products is that they single pieces of each were similar shapes & thickness.
Both have a nice sheen and are well molded.
The UK Dairy Milk Bar features a lovely matte purple wrapper. It's easy to open, though not easy to close.
I liked the deeply segmented bar that broke easily into pieces. Each is beveled, so it's easy to snap off and easy to bite.
The bar smells sweet and rather cheesy, like cottage cheese or maybe yogurt. The cocoa notes are sweet, more like chocolate cake than cocoa. In fact, but those together and the closest I can get is this smells like a rich chocolate cheesecake.
The melt is thick and sticky; it's sweet at first but then gives way to some deep toffee and caramel sugar notes. Then it gets sweet again ... a bit too sweet for me. After two pieces my throat was burning and I had to drink some water and eat some plain crackers.
The melt is consistent. Quite smooth but not silky or buttery. It didn't feel fatty, it felt fudgy - like the sugar wasn't quite integrated with the cocoa.
The dairy notes were decent, a little thick in the back of my throat but not as powdery tasting as some other European style milk chocolates.
Overall I would have preferred a much smoother & more chocolatey punch. However, that's not what the Dairy Milk bar is about, it's about the milk component as much as the chocolate, since there are near equal proportions. Milk solids clock in at 23% and cocoa solids are 20%. There are also about 5% vegetable fats in there taking the place of cocoa butter.
This is why the front of a Dairy Milk bar doesn't even say chocolate - they'd have to put the vegetable statement on the front along with it by their current labeling standards.
I wanted to be as thorough as I could, so I also tasted a package of Dairy Milk Buttons which are kind of like Hershey's Kisses in that they're little nibbles of chocolate.
They're about the diameter as pennies (though some were dime or nickel sized). The bottom has a little embossed Cadbury logo.
Each little piece is rather thin, so melts quickly on the tongue. They release the flavors quicker and taste more milky to me. There's also a slight cool effect on the tongue.
I liked them, and the little shapes are probably very easy to combine with other items like nuts, popcorn or candies for a more varied mix of textures.
The American has a sweet, slightly tangy milk scent with a hint of toasted cocoa. The bit is soft but has a good snap to it. The melt is a bit on the sticky side but not overly sweet.
It has a bit of a fudgy flavor and texture, though much creamier. I wouldn't go so far to call it silky, in fact parts of it were downright gritty. It had a good toasted & smoked taste to it, much darker in taste than the traditional Hershey's or Mars.
The overt flavors are definitely of the dairy products, not of the chocolate.
It is Kosher ... the UK bar has no Kosher mark.
Okay, so they're similar but not quite the same. I did some investigating on the labels:
First, it's the ingredients.
Cadbury Dairy Milk from Bournville, UK
Milk, sugar, cocoa butter, cocoa mass, vegetable fat, emulsifiers, flavorings.
49 gram bar - Expiration: 11-2009
Cadbury Dairy Milk from Hershey, USA
Sugar, milk, chocolate, cocoa butter, lactose, soy lecithin, PGPR, natural and artificial flavor.
8.5 ounce miniatures package - Expiration: 12-2009
Since the portions & packages were so different, I did a little Excel magic on them and standardized it to compare: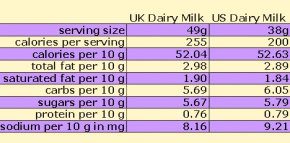 From what I can tell, there is a just a smidge less fat in the American but slightly more sugar ... now these are tiny, tiny amounts. Not enough, as far as I know, to account for the color difference. Also, the UK labels are more precise - American standards allow rounding, UK measures in tenths.
I have no preference, except to say that I don't care much for plain Dairy Milk. I prefer it with nuts in it and they do have an ample variety of bars that have nuts. It's just too sweet and doesn't have enough of a cocoa punch. I've become spoiled by the high cocoa content of products like Scharffen Berger and Amano when it comes to just eating by the piece.
For those in the United States, the British made bars can be found at import shops and places like Cost Plus World Market. For those in the UK, I'm sure it's near impossible and pointless to get the American made stuff.
More
Popular Q&A
How can you use dairy milk chocolate for kissing.
just put a chunk in your mouth