Healthy ice cream Recipes almond milk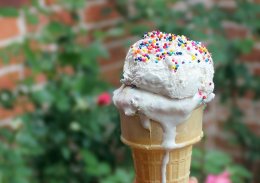 Smooth.
Creamy.
Sweet, drippy ice cream, cascading into a delicious pool of vanilla.
Yeah, it's winter. But I can't keep this dreamy recipe to myself for the next four months. And actually, I really like eating ice cream in the winter.
One of my favorite memories is of a Christmas my family spent with relatives in Italy. The weather was bitter cold and rainy, and yet we knew it'd be a sin to leave without sampling the famed Italian gelato. Therefore—decked in hats, scarves, and heavy coats—we sat in a little gelateria, clumsily using gloved hands to spoon the rich, creamy dessert into our mouths. I've never tasted ice cream as delectable as on that blustery December day.
Perhaps this memory is what prompted me to pull out my ice cream maker a few days ago, in the ugliest weather we've experienced so far this year. The frustrating thing about ice cream makers is that you can really only make one batch per day, since the base needs to be completely frozen for optimum performance.
And I am not a patient person! If a recipe experiment doesn't come out perfectly the first time, I immediately want to try again. My first attempt at making a healthy ice cream was awful. Loosely following a recipe from The New York Times, I mixed cornstarch in with my almond milk. The result was not an ice cream; it was a paste! In my second attempt, I reduced the amount of cornstarch, but it was still pasty. So, on day three, I omitted the cornstarch altogether…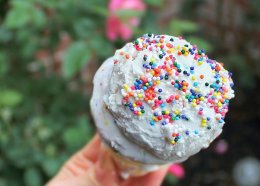 Perfect!!
Feel free to customize this basic recipe any way you want! Add cocoa powder for healthy chocolate ice cream, berries for a sherbet, or even crushed candy canes and peppermint extract for a Christmas treat.
Four Ingredient Ice Cream
(Can be any flavor!)
2 cups milk of choice or nondairy creamer or coconut milk (see note below)
1/4 cup sweetener of choice: such as pure maple syrup, brown sugar, or xylitol for sugar-free
pinch stevia or 1 extra tbsp sugar
1/8 tsp salt
1 and 1/2 tsp pure vanilla extract
optional ingredients for whatever flavor you desire
Mix all ingredients (except optional ingredients, if they are chunky) in a dish. If you have an ice-cream maker: simply transfer to your ice cream maker and watch the magic! (I have a Cuisinart, and it took 12-14 minutes to turn the liquid into ice cream. Warning: Make sure your ice cream maker's base is completely frozen before use, or it will NOT work!!) You can eat it straight from the machine, or freeze a few hours for firmer texture. Homemade ice cream is best the day it's made, but you can technically thaw it out and it will keep for a few weeks. If you don't have an ice-cream maker, see nutrition link below:
A word about the milk: This tastes delicious if you use only almond milk, but the texture is more foam-y (in a good way, if that makes sense!) than creamy. If you use only nondairy creamer or full-fat canned coconut milk, the texture is more like ice cream. (Brand ideas include: Silk creamer, So Delicious creamer, or Good Karma.) If not serving right away, be sure to thaw a little if your freezer is super-cold. (Also, I'd probably stay away from fat-free milks, such as ricemilk.)
Edit: If you are using all almond milk and still want it creamy (not foamy), you can freeze the ice cream and then re-blend it in a Vita-Mix for Vita-mix ice cream. The end result is incredibly creamy, without the fat and calories of using the coconut milk or creamer.
Do you have a favorite ice cream flavor?
Mine's always been mint-chocolate chip. But plain chocolate is a close second. Coconut's good, too! And cookie dough, peanut butter, cookies-n-cream… probably the only flavors I'm not big on are sorbets or sherbets.
More
Popular Q&A