Cuisinart ice cream maker Recipes almond milk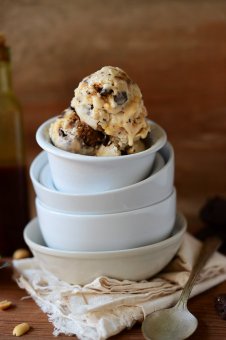 Three words: Snickers Ice Cream. Happy Birthday to me!
Yes, it's true. Yesterday was my 27th birthday and I couldn't think of a better way to celebrate than with ice cream – my all-time favorite food group.
Don't worry, I haven't sold my soul to the egg and dairy devils just yet. I've kept this recipe vegan and as simple as possible. That way I can indulge with half the guilt and share it with all of you. Best community birthday present ever.
Speaking of best birthday present ever, I WON THIS CUISINART ICE CREAM MAKER in the ! I had a suspiciously good feeling about it when I entered my name in the drawing and was absolutely floored when I received an e-mail from Jennifer notifying me I'd won!
I kicked, I screamed, I squealed. And then I responded with gratitude and my physical address. Once it arrived it was on. I wasted no time breaking it in with this luscious vegan snickers ice cream. I hope I'm doing Jennifer proud.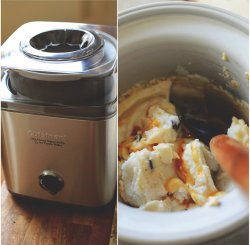 This ice cream is simple.
Coconut milk.
Raw sugar.
.
Peanuts.
Bittersweet chocolate curls.
(And a for good measure)
That's it! And it's so rich and satisfying that I'd almost rather it than . Or on second thought, maybe I'll have both. Yeah, it's my birthday so I'll definitely be having both. Hooray!
The best part about this ice cream, besides it not requiring any exotic ingredients, is that it's fairly hands off. Once you combine your base and let it cool, you let your ice cream maker do the work.
You can make this but it will likely affect the texture, making it icier and denser than it would be otherwise. But if it's the flavor you're going for anyways it doesn't really matter. The bottom line is, you need to have this flavor combo in your mouth, STAT. Get to churning!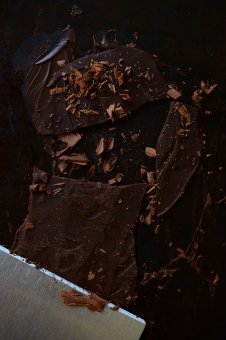 Vegan Snickers Ice Cream
Vegan coconut milk ice cream with vegan caramel sauce, roasted peanuts and bits of bittersweet chocolate.
Author: Minimalist Baker
Recipe type: Dessert
Cuisine: Vegan
Serves: 8
Ingredients
2 13.5 ounce cans full fat coconut milk (roughly 3 1/2 cups)
1/2 - 3/4 cup raw sugar, depending on preferred sweetness
1 tsp quality vanilla extract
1 pinch xanthan gum (optional)
2 ounces quality dark chocolate (non-dairy)*
1/3 cup roasted salted peanuts
Instructions
Add coconut milk to a saucepan over medium heat. Add sugar, stir and bring to a simmer. Continue whisking for 1-2 minutes.
Remove mixture from heat and stir in the vanilla extract and pinch xanthan gum. Whisk to combine.
Transfer to a glass bowl and refrigerate until cooled. I left mine in the refrigerator for 6-8 hours and covered it with plastic wrap once it was no longer steaming hot.
Once the mixture is thoroughly chilled, transfer into the pre-chilled bowl of your ice cream machine and mix according to manufacturer's instructions.
Once the ice cream is nearly done add half of the caramel, chocolate flecks and peanuts. To make my chocolate curls I melted my chocolate first, let it cool and then ran a scraper over it to make the pieces more edible. This, however, isn't necessary.
When the ice cream machine stops, transfer to a freezer-safe container and sprinkle in the rest of the chocolate flecks, peanuts and caramel in layers, swirling with a knife to slightly incorporate. I also added in a vegan snickers bar, but this is also optional.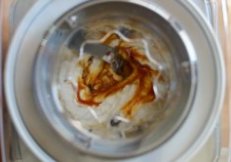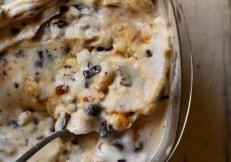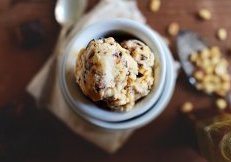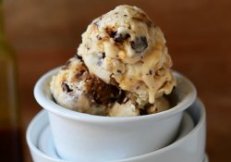 More
Popular Q&A