Pumpkin and evaporated milk Recipes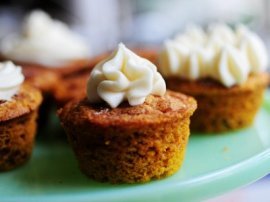 I don't know about you, but after both the pork chop recipe and the roasted new potato/garlic recipe, I need something sweet. Something sweet, not non-caloric, not non-fattening, and not non-non-non-not-non-not-nonfattening.
Did I get the right number of negatives in there?
These pumpkin muffins are yummy, and can be eaten plain for breakfast or iced with fattening, gloopy cream cheese frosting for dessert.
Versatility: I love that in a muffin!
Into a strainer or sifter, dump 1 cup all purpose flour…
1/2 cup sugar…
2 teaspoons baking powder…
Then cinnamon, ground nutmeg, ground ginger, and salt.
Capturing the motion of kosher salt is one of my favorite photographic activities.
I've got to get out more.
Tap the side of the sifter until it all comes out the other side…nice and light and fluffy.
There's always a little left in the strainer; I just rub it with my fingers to force it all through.
A lovely sight!
Throw the sifted mixture into a bowl along with some cold butter that's been cut into pieces.
Use a pastry cutter or two knives to cut the mixture together. (A pastry cutter is best.)
Keep going until the mixture is the consistency of coarse crumbs.
Now, measure a heaping cup of pumpkin puree, either fresh or canned.
Note: make your own pumpkin puree! It's fun and makes you feel like a Pioneer Woman. Whether or not that's a good thing, I'll leave to you to decide.
But note: if you go for the canned stuff, use canned pumpkin, not pumpkin pie filling. No, no, no, no, no on the pumpkin pie filling.
Add the pumpkin puree to a bowl with some evaporated milk.
And an egg!
And some vanilla.
Oh, how I love vanilla. It makes everything delicious, except maybe guacamole.
Ugh. Now I'm nauseated. Guacamole with vanilla sounds totally disgusting.
Mix it all together until nice and combined.
Then pour it into the flour/butter mixture.
Add some golden raisins. Yummy! Raisins in baked goods are so delicious.
Not in oatmeal cookies, though. I like those pure and unadorned.
Then fold it all together until just combined. Don't beat it to death. Have a heart.
Now, in a separate bowl, throw a little sugar…
And some cinnamon and nutmeg. Stir it together and set aside.
Fill muffin tins 1/2 to 2/3 full with batter. This recipe always just barely makes enough, so be sure to start with half full…then you can fill in a little if there's extra. If you want the muffins to be larger, just fill the pans a good 2/3 full—the recipe will make ten muffins.
Generously sprinkle the sugar/cinnamon/nutmeg mixture over the top of each unbaked muffin. This'll give it a nice little crunch under the cream cheese frosting.
Plus, a little extra sugar ever hurt anyone.
Well, except everyone.
Now pop the pan into the oven for 22 to 26 minutes.
Pouf!
Mmmm. Hello, my beautiful darling!
Let them cool for a few minutes in the pan…
Then remove them and let them cool. If you're going to frost them, you need to let them cool completely.
(See frosting recipe below.)
Speaking of frosting…the devil made me do it.
I actually prefer doing a smaller heap of frosting like this. It's very, very rich and a little goes a long way.
Or…you could just step away from the star tip and smear it over the top like this.
Or…you could just step away from the icing altogether. Unfrosted, these are positively yummy for breakfast.
More
Low Carb Evaporated Milk Mix - LC Foods - All Natural - High Protein - Low Lactose - High Calcium - No Sugar - Diabetic Friendly - Low Carb Milk - 4.9 oz
Grocery (LC Foods Corporation)
Low Carb - All Natural - Gluten Free - No Sugar - Diabetic Friendly
All Natural Ingredients
Per 1.5 tsp: 0 Net Carbs
Manufactured in the United States
Includes: 1 - 4.9 oz Mix