Vegan Recipes with coconut milk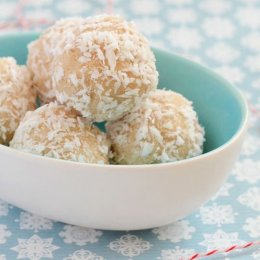 When it comes to cookies, deliciousness usually arrives in the form of ingredients like flour, butter, sugar, nuts, and chocolate. So what happens when you can't eat any of these foods? In my case, you start playing with coconut.
Besides nut and chocolate allergies, I am currently on a restricted diet without gluten, soy, dairy, or refined sugar. I had resigned myself to a cookie-less holiday until my mother, ever hopeful, insisted that we find something sweet and celebratory to fill my corner of the cookie platter. Fortunately, coconut (not really a nut!) is one beloved food I can still eat.
For days, my kitchen was covered in all things coconut: shredded coconut, coconut butter, coconut milk, coconut oil, coconut flour. I experimented with different combinations, measurements, cooking methods, and spices, and the result is the confection you see here. Sweet, yet not overwhelmingly so, these coconut snowballs have just the right balance of tender butteriness and textured coconut. They're quick to assemble, require no baking, and are rich enough that one is plenty (maybe two, if you have an accompanying mug of coffee, tea, or cider).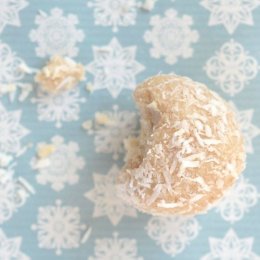 If you're a raw food person (or cooking for one), you can also use this recipe; substitute raw agave or yacon syrup for the maple syrup and make sure to use certified raw ingredients or process your own coconut milk, for example.
Coconut Snowballs
Makes 12 balls
1 3/4 cups unsweetened shredded coconut, divided
2 teaspoons melted coconut oil
3 tablespoons maple syrup
2 tablespoons unsweetened coconut milk
1/2 teaspoon vanilla extract
1/2 teaspoon ground cinnamon
1/8 teaspoon sea salt
Place 1 cup of shredded coconut in a food processor along with the coconut oil. Process on high speed, scraping down the sides periodically, until it reaches a paste-like consistency. (It does not have to be completely smooth like butter; some coconut texture is good.)
Add the maple syrup, coconut milk, vanilla, cinnamon, and salt and process until well combined. Add 1/2 cup plus 2 tablespoons of shredded coconut and pulse until just combined.
Shape the mixture into 12 (1-inch) balls and coat with the remaining shredded coconut. Refrigerate for at least an hour and up to 5 days. Bring to room temperature before eating.
More
Popular Q&A
Vegan recipes using coconut milk? | Yahoo Answers
I haven't made this but it's gotten great reviews:
I'm sure it would work fine to add some extra veggies to it as well.
Or just make a big veggie stirfry with coconut rice on the side.