Best Pumpkin Soup Recipes with coconut milk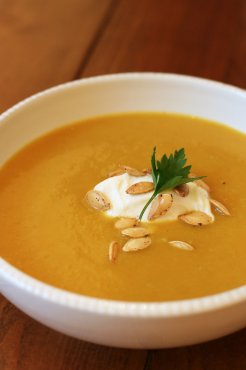 Rich in flavor yet light on the butter and cream, curried pumpkin soup is an easy seasonal starter or a simple entrée that can be stored in the fridge and reheated for a fast and easy meal. This particular pumpkin soup has an Indian twist with the addition of ginger, curry powder, and coconut milk; however, it is not overwhelmingly spicy or palate-burning.
While you might want to forgo using fresh pumpkin in baked goods, it's a must when making homemade pumpkin soup. Yes, it takes a while for the pumpkin to roast, but once the gourd is cooked through, the soup comes together in no time. Plus, roasting real pumpkin lets you reserve the pumpkin seeds and toast them for the topping.
The pumpkin makes the soup thick, fibrous, and slightly sweet, while the freshly toasted pumpkin seeds are fun to munch on. The Indian curry and fresh ginger make this soup plenty spicy, and a dash of cayenne heightens the fiery burn. The fluffy dollop of Greek yogurt gives the soup a tart bite and mellows out the spice. Depending on how much parsley you use, you can consider it a "dose" of green vegetables. I like a large handful, which wilts into an easy-to-chew, spinach-like texture.
Notes
If soup is too thick, add more stock to thin it out. In addition, if soup is too thick when reheating leftovers, add more stock until the desired consistency is reached.
Ingredients
1 onion, medium dice
2-4 garlic cloves, minced
1 tablespoon fresh ginger, minced
1 teaspoon curry powder
3/4 teaspoon coriander
1/2 teaspoon cumin
1/4 teaspoon cloves
1 medium-sized (2-pound) pumpkin, cut in half with seeds and pulp removed
3 1/2 cups stock, vegetable or chicken
1/2 cup coconut milk
Cayenne pepper, to taste
Salt, to taste
1 7-ounce container Greek yogurt, for garnish
Parsley or cilantro, for garnish
Directions
Preheat the oven to 350°F. Rub pumpkin halves with coconut oil, ghee, or butter. Then place flesh-side down on a foil-lined cookie sheet and roast for 45 minutes or until flesh is tender when pricked with a fork. Once cool enough to touch, scoop pumpkin flesh out from the skins and set aside for later use.
Heat a large soup pot over medium-high heat, and melt oil or butter. Add onion and do not stir. Allow onions to brown on one side, then flip them in one move and do not stir again, allowing onions to brown on other side. Add garlic and ginger, stir, and cook for 1-2 minutes, until garlic becomes fragrant and slightly brown. Add curry powder, coriander, cumin, and cloves, and constantly stir until spices become toasted and fragrant, about 60 seconds. Add stock, coconut milk, and pumpkin, and bring to a boil.
Turn off heat, and use an immersion blender to blend the soup until smooth. Alternatively, transfer soup in batches to a blender, and blend until smooth. Once soup is completely smooth, turn flame back on to medium-high heat and bring soup to a simmer.
Serve soup with a dollop of Greek yogurt, tablespoon of pumpkin seeds, and pinch of parsley or cilantro leaves.
Information
Category Soups/Stews, Cream Cuisine Indian Yield About 7 cups of soup
More
200g Lobo Thai Best Food Green Curry Paste Cooking Cuisine Instant Popular Recipe Camping Party Restuarant by thai dd


Single Detail Page Misc




No MSG Added, No Preservative Added and No Coloring Added
Size: 50Grams Serving Size: 4 People x 4 package
DIY, EASY TO COOK, HOT & SPICY SEASONINGMIXED WITH PORK/CHICKEN/BEEF/DUCK
Green Curry Paste , it can be cooked with any meat such as chicken pork beef duck fish
Simple, delicious taste of Thailand