Milk Chocolate Mousse cake recipe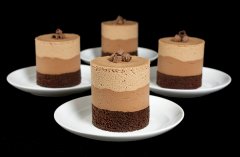 I've faced countless temptations since beginning my "Sweet" journey into desserts but none have been as irresistible as this one. The allure? – Three layers of sumptuous chocolate – Dark Chocolate Cake, lush Bittersweet Chocolate Mousse and pillowy Milk Chocolate Mousse.
And the look? Spectacular! I first spotted these cakes many years ago when I received the Martha Stewart Living Magazine regularly. You won't believe this but at the time I can remember thinking, "Why am I wasting my money on this magazine"? You see, five years ago, I would never have attempted any of the stunning cakes or dazzling desserts that graced the pages of that magazine.
But I believe there is a reason for everything, even a subscription to a magazine. I think at the time (even though I didn't realize it) something inside me began to stir. A new and surprising passion was emerging. Who knew desserts were going to take my life in a new direction? A direction that's given me "a sense of purpose" that I so desperately needed.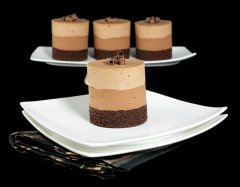 And an opportunity to connect with so many wonderful people, like you!
Fast-forward all these years later and I am having the time of my life learning all about the wonderful world of desserts. I'm even learning a new vocabulary. Baking lingo such as fold, blind bake, temper, bain marie, and bloom (the list is endless) that was once foreign to me has become part of my day-to-day speech.
Any time I begin a new project (whatever it may be) I have a need to understand everything about it. I spend a multitude of hours researching and learning all that I can. At times it can be daunting. More than one person has told me that I am "obsessed" with desserts. I prefer the term "passionate", don't you?
So thank you for joining me on "La Mia Vita Dolce", My Sweet Life. It's been a remarkable experience and I'm glad you're along for the ride!
Makes 8 cakes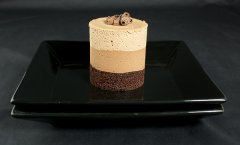 **Special Equipment – 8 9-cm (3½-inch/6-ounce) ramekins
Dark Chocolate Cake
Bittersweet Chocolate Mousse
Milk Chocolate Mousse
Semisweet Chocolate Curls
Recipe Tips
Some visitors have encountered difficulty with the mousse setting as I did when I first made the cakes. The milk chocolate mousse layer is far thinner in consistency compared to the bittersweet chocolate mousse layer. For best presentation this is what I recommend, after layering the bittersweet chocolate mousse transfer the cakes to the refrigerator and chill until set, at least 20 minutes and up to 2 hours. Prepare the milk chocolate mousse layer and pour over the bittersweet chocolate mousse layer. Transfer to the refrigerator and chill until set, 4 hours and up to overnight (I recommend overnight). Transfer the cakes, covered loosely with a sheet of plastic wrap, to the freezer and chill until firm (try removing collars and if there's even a dab of mousse adhering to the collar leave in the freezer). Remove from freezer and immediately remove collars. Return cakes to rimmed baking sheet and transfer, uncovered, to the refrigerator and chill until thawed, about 20 minutes. Remove from fridge and serve. I've never had the mousse go soft to the point that it puddles on the plate after following this procedure.
Here you can see us passport photos.
Dark Chocolate Cake
Unsalted butter, softened, to grease
Unsweetened cocoa powder, for dusting
83 g (2/3 cup) plain (all-purpose) flour
39 g (1/3 cup) unsweetened Dutch-process cocoa powder
½ teaspoon baking soda
¾ teaspoon baking powder
¼ teaspoon salt
150 g (2/3 cup) caster (superfine granules) sugar
1 large egg, room temperature
59 ml (¼ cup/4 tablespoons) whole milk
3 tablespoons vegetable oil
½ teaspoon pure vanilla extract
59 ml (¼ cup/4 tablespoons) water
Preheat oven to 180° C (350°). Line a baking sheet with non-stick baking paper. Place the ramekins on the lined baking sheet. Using a small pastry brush, coat the bottom and sides of each ramekin with unsalted butter; dust liberally with unsweetened cocoa powder, set-aside.
Using a fine mesh sieve, sift the flour, Dutch-process cocoa powder, baking soda, baking powder and salt into the bowl of electric stand mixer. Add the sugar; using a whisk, whisk together to well combine.
Attach the bowl to the mixer fitted with the paddle attachment. Add the egg, milk, oil, vanilla, and water; mix on medium-low speed until combined, about 3 minutes.
Divide batter evenly among prepared ramekins. Return ramekins to lined baking sheet, spacing one-inch apart.
Bake until a cake tester inserted in the centre of the cakes comes out with a few moist crumbs attached, 18 to 20 minutes.
Transfer to a wire rack; let cool completely. Unmold cakes.
Using a serrated knife, carefully trim each cake to 2.5-cm (1-inch) high. Transfer to paper lined baking sheet, cut side down.
Cut eight 25 by 10 cm (10¾-inch-by-4-inch) strips of non-stick baking paper. Wrap a paper collar around the base of each cake, keeping the bottom flush with baking sheet. Secure each collar with tape. Return cakes to rimmed baking sheet and cover loosely with plastic wrap. Prepare bittersweet chocolate mousse layer.
Bittersweet Chocolate Mousse and Milk Chocolate Mousse
790 ml (3 1/3 cups) heavy cream, 35%, divided
8 large egg yolks, room temperature, divided
113 g (½ cup) caster (superfine granules) sugar, divided
59 ml (¼ cup) light corn syrup, divided
59 ml (¼ cup) water, divided
198 g (7 ounces) good quality bittersweet chocolate, melted
2 teaspoons pure vanilla extract, divided
Pinch of salt
198 g (7 ounces) milk chocolate, melted
More
Southern Gourmet Premium Mousse Mix Incredible Milk Chocolate -- 4 oz


Health and Beauty (Southern Gourmet)




Gracious Goodness! From a kitchen in the Deep South, Southern Gourmet s mousse captures all the goodness of a time-honored tradition
Southern Gourmet

Scott's Cakes 2.5 Inch Round Fluted Chocolate Pastry Tart Shell Lined with Milk Chocolate - Single Pack


Grocery (Scott's Cakes)




All of our tart shells are made with real butter, cocoa, eggs, and are hand rolled and baked fresh.
You can use them for your favorite sweet recipe or savory recipe!
Our 2.5 inch tart shell is 1 inch deep.
Boxed tight securely for safe shipping.
You can enclose a gift message.