Eagle Brand milk cake Recipes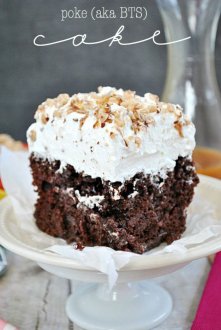 BTS or Poke Cake
This is the original BTS or Poke Cake Recipe (as I know it). There are a lot of different versions out there, but this is the classic one for me. Chocolate cake, poked to death, soaked in sweetened condensed milk, and topped with copious amounts of Cool Whip, Heath Toffee Bits, and caramel sundae sauce.
I've also included a few of my favorite variations at the bottom of the post!
This is the original recipe that began my ongoing love affair with poke cakes and their many, many recipe variations.
Poke Cake is something my Grandma makes every once in a while for family affairs (although usually in trifle form), and I'm always sure to snag a piece. But the funny thing is, other than those occasional run ins with this cake, I never really gave it much thought. I mean, I've always loved it. It's always been delicious, and lovely, and and I could never get enough.
But it never once crossed my mind in all of my years of poke-cake-eating that it could be done differently.
Until last fall.
October-November was sort of a turning point for me in my recipe development methods. Up until then, I had simply been trying to come up with the most creative recipes I could concoct. But around that time, I was slowly shifting towards more traditional recipes with subtle variations and twists.
And I thought… how could I change this recipe?
The obvious place to start was to exchange cake flavors. And because it was Fall time, and because pumpkin paired nicely with the Heath and caramel already in the recipe, I made a Pumpkin Poke Cake. The only difference between that cake and the original was the exchange of pumpkin cake for the chocolate cake. Easy.
And then that cake went crazy viral on Pinterest, Stumble, and Facebook. So I thought… I guess I'd better make another!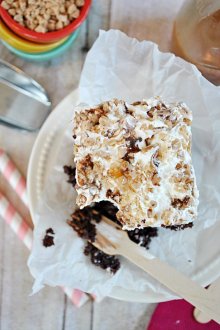 With Christmas just around the corner, I decided to make a Chocolate Peppermint Poke Cake. This time I played around with the sweetened condensed milk filling by blending it with a little bit of peppermint creamer. It made the cake a little moister than the original, but I loved it. In fact, I prefer it that way!
That Christmas cake was also the first time I experimented with adding a layer of hot fudge sauce, Oreo pieces, and new toppings. Hands down one of my favorite variations. LOVE IT.
As the months have passed, I've continued to experiment with new flavors for different holidays (see Valentine's Red Velvet, Easter Carrot Cake, and Summer Lemon Cake). I had a lot of fun creating a rainbow colored cake for St. Patrick's day. And I've even made a skinny version!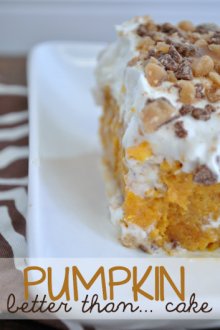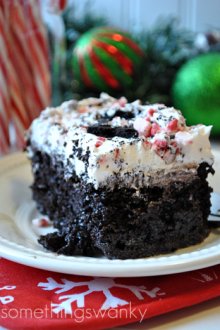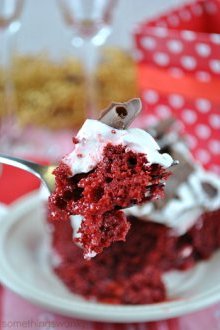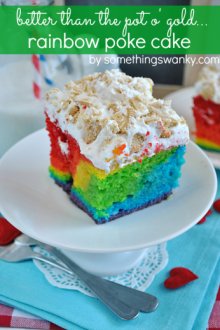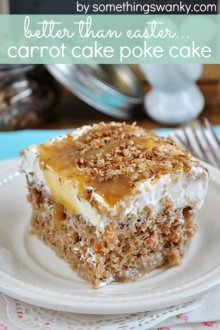 More